Applied Polymerics is proud to offer bridge lifting and repair services featuring the latest innovations in equipment and techniques to provide safe and efficient repairs. Whether you are lifting for girder repairs, anchor bolt or bearing repairs or replacement or concrete repairs, we have the technology and experience to provide these services with unmatched precision.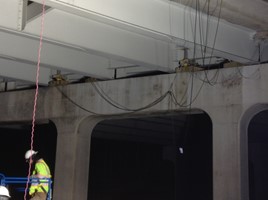 Synchronous Lifting (Type 2 Jacking)
Synchronous lifting is used to avoid undue stress to the bridge by lifting all segments simultaneously and avoiding stress points. This is especially important on structures with uneven load distribution. By using an electronic system that meticulously controls hydraulic movement, an entire bent is usually lifted with no more than a 1/8" tolerance between the leading and lagging jack. This is also a quicker method than lifting one girder at a time, as lifting takes.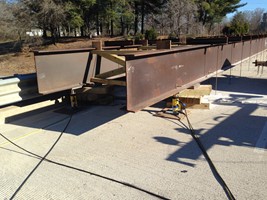 Strongback Jacking
Some jacking applications require the use of strong backs (large steel beams) and coil rods.  By drilling through the deck and attaching the strongbacks to the underside of the deck using coil rods, we can lift the slab from above and on the bridge deck.  Use of strongbacks may be required when a bridge is on such a skew that it is too difficult to lift from below.  The roadway below may not be perpendicular enough to the bridge.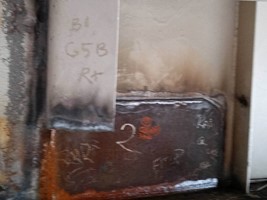 Steel Repairs
Corrosion on steel bridge girders generally occurs as a result of leaking joints. There are two options for steel girder repairs.
You could cut out the old steel's section loss and replace with new steel. This may require use of jacking frames, towers, or posts to remove the load from the repair area. The other option is to weld or bolt onto the old steel with new steel plate. Often, with either option, the bridge is jacked and bearing/anchor bolts are replaced. Applied Polymerics is well equipped to handle these tasks as well.