Highway Tunnel Repairs
A paving contractor taps Applied Polymerics to stop infiltration of saltwater and silt into a heavily trafficked tunnel.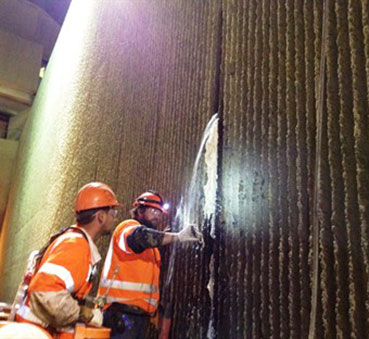 Saltwater and silt are tough on pavement. So when joints in a heavily trafficked tunnel and its retaining wall separated, allowing infiltration of thousands of gallons a day of salty river water, steps needed to be taken. The paving contractor tapped Applied Polymerics to seal all the leaks prior to resurfacing of the road.
The Monitor-Merrimac Bridge Tunnel was completed in 1992 to provide travelers access from Suffolk, Virginia, to Newport News, Virginia, along I-664 where the James and Elizabeth Rivers meet. Over time the joints in the roadway and the vertical retaining walls had opened up and started to leak thousands of gallons of seawater and silt per day to the retaining and pump system of the tunnel. This infiltration also caused damage to the existing roadway pavement.
Applied Polymerics Inc. had the knowledge and manpower available to take on such a large task and was subcontracted by the paving company to handle the leak repair portion of this project. The road joint work was performed over weekends when the tunnel could be closed to allow for the pavement to be milled then the joints sealed and repaved back by Monday morning rush hour traffic. The retaining wall repairs were performed under normal nighttime lane closures to minimize disruption of the traffic flow. Both joints were sealed using water-activated hydrophilic and hydrophobic polyurethane injection resins. The project was completed on-time and within budget.
For more information, please contact moneal@appliedpolymerics.com