CIPP lining
Applied Polymerics has extensive experience in the repair and rehabilitation of stormwater systems. Using the latest repair techniques and materials, API can restore assets to their original new-build standards, as well as substantially extend the life of structures.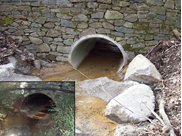 In addition to leak repairs, pipe replacement and rehabilitation, and other related services; API is proud to offer the most innovative and protective CIPP lining services on the market.
UV GRP CIPP lining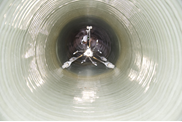 - Consistent Field Confirmed Reliability
- Quality Tracker System™
- Proven 50+ Year Performance Life
- Lower Life-Cycle Costs
- Reduced Environmental and Community Impact
- No Release of Styrene Condensate

Ideal for circular, ovoid, arch, rectangular and special cross-sections
With decades of stormwater repair experience and the best lining technologies on the market, Applied Polymerics can provide you with superior
solutions for your pipe repair needs.
Control Infiltration // Eliminate Root Intrusion // Avoid Structural Failure
Call 336-479-1840 or email info@appliedpolymerics.com for more information.